My kids are notorious for stretching the boundaries (gee, wonder where they get that from!). When bedtime was 8 p.m. they stretched it until 9. When bedtime was 9 p.m. they stretched it until 10! During summer vacation… ? All bets are off! Bedtime and curfew go right out the window along with studying and book work. But, I can't say I mind as long they're doing something memorable they'll look back on later and count as a favorite summer vacation memory. This week we wanted to share ideas for backyard summer parties for kids. I'm using the term "parties" loosely, people. A few friends from the neighborhood pitching a tent in the backyard ABSOLUTELY counts as a party! So does turning on the sprinklers on a hot day and running through them! (If you want sophisticated big person party ideas, we've got those too! Check out our Super Secret Party Tips Guide!) You don't have to spend a lot of money to enjoy life's simple pleasures! If you're looking for ideas to help your kids create awesome summer memories, look no further!
Backyard Movies & Popcorn
Kids spend too much time in front of screens! To get them away from the television but still give them an opportunity to sit down and watch a film with friends, we think movie night in the backyard is a great way to celebrate summer without a lot of muss and fuss. A simple white sheet hung from the fence, against a wall, or suspended from tree branches works for a screen. There are numerous projectors for under $100 you can buy from Amazon or Target. You'll still need some speakers, but you probably already have some for your home audio. Plug the projector into your laptop and stream the night's feature! Wait… you need an audience!
Invite some kids over! Set up blankets, beach towels or beach chairs on the lawn and maybe a few luminaries for ambiance and lighting. A few bowls of candy and popcorn are all you need, or you can order pizza. Once your kids get a taste of outdoor movie viewing, they'll probably want to do it all the time!
Camping Under The Stars
For some people (ummm….not me, we've already established this!) camping in the great outdoors is a great way to get away. Sure, I love making s'mores! And grilling over an open flame! And drinking by campfire! But I'm not a big fan of mosquitoes, sleeping on the ground, or going to the bathroom in a hole or using a sleazy bathroom I have to walk a mile to get to, so camping is too "rustic" to be enjoyable for me. Add kids into the mix and you've got your work cut out for you!
That's where backyard camping comes in! Kids can enjoy the challenge of pitching a tent (a worthwhile skill!), the fun of snoozing in sleeping bags, and the excitement of being under the stars. But they won't have far to go to use the bathroom and there won't be bears or wild animals to contend with! (If, however, you want to do something really fun to simulate that, Halloween stores sell battery operated blinking eyes you can put in the bushes to make it look like critters are watching!)
First, you'll need a tent for your outdoor sleepover! Then, the fun begins. For the science and nature lovers, consider printing out astro charts for stargazing, or having the kids install Sky Map or SkyView on their phones. These apps let you hold your phone up to the sky and see exactly what constellations are above you. You'll also want to have flashlights, lanterns, and card games on hand. If your kids and friends play instruments, encourage kids to bring their guitars for campfire songs. Set up an igloo cooler with food and drinks and consider roasting hotdogs on an open flame.
Fizzies For Sale
Lemonade stands are so last year! Why not set up a stand that sells homemade bath fizzies (a.k.a. bath bombs) instead?! Bath fizzies are easy to make using round metal tea diffusers, baking soda, epsom salt, corn starch, citric acid, food coloring, and essential oils. You can find recipes on Pinterest and YouTube. They even sell kits on Amazon!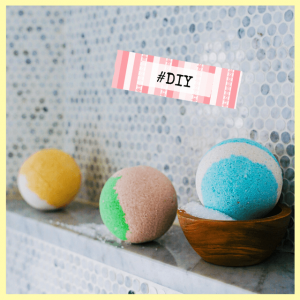 Have your kids invite some friends over to make the bath fizzies. This can be on a separate day because it takes a few hours for the bath bombs to dry. Once they're made, package them in cellophane tied with a ribbon, mini paper bags, or recycled yogurt cups that have been decorated with washi tape, paint, ribbon, or colored duct tape.
Let the kids get creative about their marketing! They can make signs, price tags, labels, etc using craft and office supplies. This is a great way to teach kids about commerce and how to earn a little extra cash! But, it's an equally good opportunity to let them fundraise for a local charity if there is an organization they'd like to donate the proceeds to!
Beach Blanket Barbecue
This activity is kind of like backyard camping but without the tent and overnight! It's the perfect way to get the kids outdoors and away from screens, tv, and gaming. String some lights in the yard, lay out blankets, put on some music, and plan a kid friendly barbecue of hot dogs, veggie sticks, and lemon-limeade. Don't forget the activities! Lawn bowling, croquet, and badminton are great options. If you have a ping pong table, set up a scoreboard and host a competition!
Patio Lab
If your kids are into science, discovery, and learning how things work, host an afternoon science lab on your patio in the backyard. There are dozens of science experiments on Pinterest designed specifically for kids. We offered up some suggestions last week – check out Summer Vacation Activities & Crafts For Kids! There are also countless youth science books that have lab experiments that can be conducted at home with regular household items. Pick a half dozen experiments and have the necessary tools and items your kids will need to conduct the experiments. Sound too boring…?
To create a mad scientist vibe, you can find inspiration from Halloween stores… fake skulls are a good start! Plastic beakers with colored liquids are also a nice touch… with or without flowers! The point is, any kind of props help set the stage for fun! A periodic table, eye chart, and dry ice all work well to create a mysterious ambiance for your kids experiments. You can also pick up swim goggles or protection goggles to make it official!
Next week we'll be sharing gardening ideas for kids that encourage healthy eating! Until then, check out our Super Secret Party Tips Guide – it's FREE!
If you liked this week's article, you won't want to miss these…
Bust Out The Fun Before It's Back To School!
Create A Personalized Family Fun Day!
What are your kids' favorite backyard activities?  Let us know in the comments below!