A few weeks ago, I got some news that put a smile on my face! I mean, it was a holiday weekend so I was already feeling the bliss of cocktails and a food coma or two, but before that happened, I found out that The Party Goddess! Vodka & Donuts blog was named one of the Top 60 Party Planning Blogs by Distinctivs Party! It always feels good to be recognized as a trend maker and creative thought leader. We were honored to be among the other talented party planning bloggers from around the globe and thought it'd be fun to give a shout out to some of them because it IS holiday time and you should be living it up!
Before we get started, if you haven't already downloaded our Super Secret Party Tips Guide, do that right now! It not only has party themes and decor ideas but practical stuff too! Like finding out how much ice you need for 30 people to booze it up on a 100 degree day! (C'mon, you know you always wanted to know!) Without further adieu, here are eight top party planning blogs we love that share the list with yours truly!
Dolce Designs
THESE CAKES! If you're getting married, you'll want to put wedding cake designer Dolce Designs on your list! They've been featured on a bunch of different wedding planning sites, including Martha Stewart and PopSugar. They are exquisite works of art that, quite frankly, look too amazing to eat!
Little Wish Parties
Inspired to create unique and whimsical parties for her own kids, Michelle, the mom behind this family-focused site started the Little Wish Parties blog to feature party themes and the accoutrements you need to host elaborately decorated kids parties. We loved this flamingo themed shindig!
DIY Inspired
You know how much I love DIY crafts and party favors for casual entertaining. Dinah Wulf of DIY Inspired has a whole library of DIY party favors, invitations, crafts, kids costumes, and home decor. From Star Wars themed printables to wood and pallet crafts and furniture, DIY Inspired has so many fun ideas and easy to follow videos that show you precisely how to make everything!
The Partiologist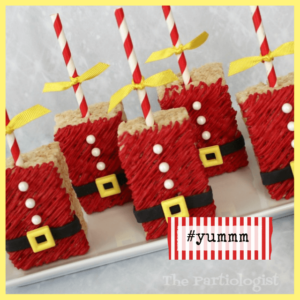 What I loved most about The Partiologist blog is that they feature so many fun recipes, which you can also find on their Instagram page and Pinterest boards. If you like baking your own sweet treats for entertaining, you'll definitely want to check out this top party planning blog! They have foods to make for retro parties, luaus, and every holiday imaginable.
Laura's Little Party
Laura, the creative brain behind Laura's Little Party, brings a genuine sense of style and artistry to her party creations. Check out her site  and you'll see what I mean! There is so much attention to detail as well as a precision about the way she presents graphic elements, you'll be inspired to try out any one of her design themes with your boys and girls when their birthdays roll around!
Amy's Party Ideas
You know how much I love printables! Amy's Party Ideas has hundreds of printable invitations, banners, party bag labels, menu boards, decor and signs available for purchase (at super reasonable prices!) Plus, everything looks 100% professionally designed! Even better, the blog features gorgeous photos and lists of everything you'll need to recreate parties of every kind from brunch to sports barbecues and baby showers.
Giggle Living
Giggle Living is another top party planning blog that really caught my eye. Not only are all of their designs really clean and elegant, they have an online store that features luxurious handcrafted gift items made from antiques, jewelry, and recycled materials.
A La Mo
I hear this all the time…"I want to style my own party but I'm not that creative."  San Diego-based event planners A La Mo can plan your next event, of course, but they also offer a unique service where they design custom inspiration boards that include 10-12 images around a particular theme and feature items you can use to design your own event. You provide them with basic information about the party or event you want to throw and A La Mo does the research for you. After scouring the world (wide web!) to create a look, they send you the information presented with beautiful visual representation and coordinating details such as decor, menu items, cocktails, paper goods, and activities, along with the resources to procure what you  need.
While it might seem weird to feature other top party planning blogs and event planners on my site (since I am one also!) every event planner has a particular focus. Everyone finds their niche based on their own unique talents, geographic location, and business goals. I specialize in celebrity and corporate events with an emphasis on destination entertaining, but I also work with local clients in the Los Angeles area who seek out unique fêtes. I'm a big believer in sharing ideas and spreading the love! With the holiday season upon us, we hope you enjoy all of the event tips, recipes, and shenanigans we put together for you lovelies each week. It's a true labor of love!
If you're thinking about hosting a holiday party, let's chat! Nothing makes me jollier than creating once-in-a-lifetime events for my clients! Don't forget to check out our FREE Super Secret (not really!) Party Guide! It has tons of helpful tips for year-round celebrations.
If you liked this week's blog, take a look at some of our other seasonal features!
9 Fall Cocktail Recipes By Spirit Preference
10 Corporate Holiday Party Ideas Employees Love
Favorite Things: Holiday Table Decorations!
What party planning topics do you want to hear about next? Let us know in the comments below!