The leaves are turning. The holidays are upon us. And it's officially sweater weather! I know some people have their go-to cocktail and they stick with it come rain or shine. But not me! When the temperature falls, I gravitate toward libations that are warm and cozy. Drinks that have fragrant holiday spices or fall flavors like pumpkin and apples. Since I'm always (eh-hem!) on the hunt for new boozy beverages, I compiled for all you lovelies, a collection of fall cocktail recipes created by a whole bunch of merry mixologists who know that the best way to get into the season is to sip it!
Many of these creations are perfect for entertaining, so get out your punch bowl, download our Super Secret Party Tips Guide (it's FREE, c'mon people!) and be two steps ahead for that cocktail party you know you're dying to throw! It's the season of fall fun! Without further adieu, let's pick your poison!
Bourbon
For all of you whiskey lovers out there, especially those who love bourbon like Maker's Mark, Jack Daniels and Bulleit, this recipe is served warm with a cinnamon stick. Works great as a signature cocktail for a small dinner party or as an after-dinner drink with dessert.
Bourbon Mulled Cider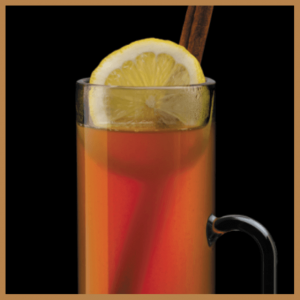 Ingredients
1¼ oz. Bourbon
Hot Apple Cider
Dash of Allspice
Cinnamon Stick
Lemon Slice
How to make it…
Add bourbon to a mug. Then fill the mug with hot apple cider and a dash of allspice. Garnish with a cinnamon stick and lemon slice. (For even more baking spice flavor, simmer the apple cider with additional cinnamon sticks.)
Vodka
The beauty of vodka is that it's a nice buzz inducing neutral spirit that can be blended with just about any other type of liquor for extra drunky factor and deliciousness! Since no fall cocktail list would be complete without something pumpkin-y on the menu, we went with this one for its lush, creamy decadence!
Pumpkin White Russian
Ingredients
1 oz. Pumpkin Spice Kahlua
2 oz. Vodka
1 oz. Heavy Cream
Cinnamon Sugar (optional)
How to make it…
Combine Pumpkin Spice Kahlua, vodka, and cream into a glass over ice. Stir lightly and serve. If you choose to use a martini glass instead of a rocks glass, consider rimming the edge with cinnamon sugar!
Gin
With all of the craft gins popping up now, we're seeing gins with even more exotic botanicals infused into them. If you're a fan of G&Ts or martinis, you probably already have a good sense of how different gins taste in cocktail recipes. This variation of a Hot Toddy (the name alone makes me laugh!) blends gin, bitters, and cinnamon simple syrup, which means you're better off using a classic gin (like Tanqueray) rather than one that is heavy on the rose petal or flower nuances. Perfect for a chilly evening or to ward off all of those pesky colds and flu floating around! (Umm, this is Marley's medical advice, not a professional!)
Gin Toddy
Ingredients
2 oz. Gin
1 oz. Cinnamon Simple Syrup
½ oz. Lemon Juice
1 dash Angostura Bitters
How to make it…
First, create the syrup by combining 1 cup of water and 1 cup of sugar with 4 cinnamon sticks in a 2-qt. saucepan. Simmer for 10 minutes until sugar has dissolved. Discard cinnamon sticks and cool. You'll have enough syrup for about 10 cocktails and the syrup can be stored in the fridge.
For the cocktail, heat gin, syrup, lemon juice, and 2 oz. water in a 2-qt. saucepan. Remove from heat and add bitters. Serve in a mug with a cinnamon stick garnish.
Tequila
I love this recipe because it shows off tequila's versatility! Think you're not a fan of tequila outside of margaritas? You're seriously going to change your mind after this cocktail. AND… if you're already a fan of the classic Old Fashioned recipe made with bourbon, you're going to fall in love with this version too because it calls for tequila that's been aged in whiskey barrels!
Maple Old Fashioned
Ingredients
2 oz. Hornitos Black Barrel Tequila
¼ oz. Maple Syrup
4 dashes Angostura Bitters or ½ oz. Amaro Liqueur
1 Orange Peel
1 Cinnamon Stick
How to make it…
Combine ingredients in a mixing glass and stir. Strain into a rocks glass over fresh ice. Garnish with an orange peel and cinnamon stick.
Rum
Time to turn your tiki around and put some rum in the punch! This holiday hangover-maker combines hard apple cider, rum, orange liqueur and cranberries! Beautiful in the glass. Refreshing on the palate!
Orchard Punch
Ingredients
4 bottles Angry Orchard Crisp Apple
8 oz. White Rum
1½ oz. Grand Marnier
3 oz. Lemon Juice
6 oz. Cranberry Syrup
3 oz. Raspberry Puree
How to make it…
First, make the cranberry syrup by combining 2 cups of cranberry juice with 1 cup of sugar in a small pot. Simmer over low heat until sugar is dissolved. Cool. Then, crush fresh or frozen (thawed) raspberries to create a puree.
For the punch, add all ingredients to your punch bowl but add the hard apple cider last (like a float on top). Ladle into glasses and garnish with lemon slices and fresh cranberries.
Brandy
Even on its own, there is something warm and soothing about brandy. This easy, two-ingredient recipe can be made with cognac if you don't happen to have any brandy in your bar. Benedictine liqueur, which originated in the 19th century, lends a savory, herbal flavor with hints of spice.
B&B
Ingredients
2 oz. Brandy or Cognac
2 oz. Benedictine Liqueur
How to make it…
Combine equal parts brandy and Benedictine liqueur into a snifter, light the fireplace, and snuggle up with your honey!
Mezcal
As you probably already know, friends Jim and Ashley Walsh are the proprietors of Kemosabe Mezcal, so I'm always partial to their brand. Bartenders everywhere have fallen in love with this smoky distilled spirit, proving its versatility and distinctiveness. I love this fall cocktail recipe because it displays warm scents of tobacco! Hence the name!
Tobacco Road
Ingredients
1½ oz. Reposado or Anejo Mezcal
1¼ oz. Cynar
½ oz. Fino Sherry
Peychaud's Bitters, 2 Dashes
Grapefruit Twist
Pinch of Salt
How to make it…
Combine mezcal, cynar, sherry, and bitters into a rocks glass. Add a large cube of ice. Stir gently and garnish with a grapefruit twist and pinch of salt on top.
Extra, Extra Cocktails!
Okay, you guys are getting The Party Goddess! bonus of fall cocktail recipes right now because even though we've already covered all of the popular spirits selections, I can't leave these two seasonal libations off the list – mulled wine and hot buttered rum! Oh, YES!
Glühwein
Ingredients
1 Bottle of Dry Red Wine
½ Cup Brandy or Rum (optional)
1 Cup Water
1 Large Orange, Peeled Then Juiced
1 Lemon, Peeled
½ Cup Agave Syrup or Sugar
5-6 Whole Cloves
1 Fresh Nutmeg, about 10 Gratings
1 Cinnamon Stick
1 Vanilla Bean, Halved
2 Star Anise
How to make it…
Peel large sections of skin from orange and lemon. Over medium heat in a medium sized pot, pour in the agave syrup and water, then add the peels and juice of the orange. Add the vanilla bean, cloves, star anise, cinnamon stick, and nutmeg gratings. Bring to a boil, then simmer for about an hour. The liquid will reduce, so after 30 minutes, add in about a half cup of wine. This allows the flavors to infuse and will create a syrup.
When your syrup is ready, turn the heat down to low and pour in the bottle of wine and brandy. Bring back to a gentle simmer for about 5 minutes. Ladle it into glasses and serve warm.
Hot Buttered Rum
Ingredients
1 oz. Captain Morgan Spiced Rum (or any gold rum)
1 TB Spiced Butter (see below)
¼ oz. Maple Syrup
6 oz. Hot Water
Orange Peel for Garnish
Cinnamon Stick for Garnish
How to make it…
For the spiced butter, combine 1 stick of unsalted butter, ½ cup brown sugar, 1½ teaspoon cinnamon, 1 teaspoon nutmeg, ½ teaspoon cloves, and ½ teaspoon ground ginger.
To make the cocktail, combine the rum, spiced butter, maple syrup and hot water in a mug and garnish with orange peel and a cinnamon stick. Serve warm.
That's all for now from your favorite booze hound! With the holidays just around the corner, we'll have more great cocktail and entertaining tips coming your way soon! Thinking about throwing a holiday party? Call me! Nothing makes me happier than creating once-in-a-lifetime events for my clients. And don't forget to check out our Super Secret Party Tips Guide! It has tons of useful ideas for fetes of every shape and size.
If you liked this week's blog, take a look at some of our other fall features!
15 Holiday Party Tips For Stocking Your Bar!
25 Thanksgiving Ideas Guests Will Gobble Up!
10 Best Appetizers & Drinks For a Holiday Party!
What's your favorite fall cocktail? Tell us in the comments below!