"We do!" Bunnies, pigs and pups, oh my!

This week, I bring you what's bound to be one of my favorite blogs of this summer! We're featuring pets in weddings, but the real star of this week's blog is my adorable, lovable Pop Tart. She's my pet pig, the cute little thing featured in some of the photos this week. And just wait till you see her! She pretty much stole the spotlight!
We took some liberties in quoting her this week, too. Thanks to my special powers as Pig Whisperer, I was able to figure out what she was thinking, or what I thought she'd be thinking in her boa and tutu. It's our version of Pigmalion. Or we could call it Pop Tart the Princess Bride… or Pig In a Boa. Wait, scrap that one; it sounds too much like pigs in a blanket. How about My Big Fat Pop Tart Wedding? Though I'm not sure she'd like to be called fat. She's actually just right for a pig. Anyway, we had fun dressing her up. Maybe these photos will give you some ideas if you're thinking about including your pet family members in your wedding. Cuz who can resist the cuteness of your beastie besties?!
Where to find The Party Goddess! ideas galore?
If you've been one of my loyal blog followers, you know that we publish these image roundups weekly. We feature a particular event for a particular client so you can go deep on the particular theme. If you know what's up, skip this part. New visitors, take a look below…
In case you missed it, here's what we're doing, mentioned in the first blog. (And if you already know what's going on, skip to the first photo!) Every day we're posting event photos & inspiration to my Instagram page to give you ideas for your own events. And, of course, to encourage you to hire yours truly, one of the top wedding planners in Los Angeles, for your next soirée! In terms of format, we're trying to capitalize on the whole hashtag calendar world and take advantage of #WeddingWednesday (#WW) and #ThrowbackThursday (#TBT) by posting wedding photos and cool stuff we've done on Wednesdays and on Thursdays, harkening back to a past client's event, be it a celebrity, or just one of us tastemakers.
Favorite Event Photos and Inspiration – Monday:
"Always a bridesmaid, never a bride!" Oh, the indignity of that phrase — as if I'd ever want to be a bride. I could never settle down with just one pig! I'm a single gal and I'm in hog heaven! Besides, brides don't get to wear feather boas, now do they?
Favorite Event Photos and Inspiration – Tuesday:
Why leave your pets at home just because you're getting married! If your beasties are your besties, give them a bowtie or a ribbon and bring them along for the day. Or at least for the photos!
Favorite Event Photos and Inspiration – Wednesday:
Ahhh, so much softer than that scratchy grass. I hope she doesn't plan to walk around again — or dance with that man in the blue blazer. I'm just about to take a nap here! Happy #WeddingWednesday!
Favorite Event Photos and Inspiration – Thursday:
When you have a sweet little bunny like this one, you don't leave her at home. You bring her for a photo op! #TBT
Favorite Event Photos and Inspiration – Friday:
When it seemed like a cute idea to take a photo with Pop Tart, your pig, but then 10 minutes later she still won't get off your dress and you have to keep smiling. #TGIF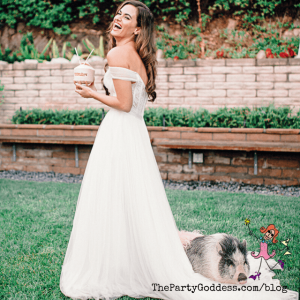 Favorite Event Photos and Inspiration – Saturday:
My left side is definitely my best! I hope the bride likes how I'm adjusting her train.
Event Photos and Inspiration – Plus, tell me what else you want to see on the blog!
So, what do you think of our pets in weddings? Which is your fave? Would you make Fido part of your special day? Let me know in the comments below!
And because we love that you love parties, we're giving this away for FREE! It's our Super Secret Party Tips Guide that has tons of useful tips for fetes of every shape and size. Check it out!

xoxo M
P.S. Pets in weddings is one trend that's here to stay. Take a look at this wedding trend and others: Invite A Little "Something Wild" To Your Wedding, Wedding Trends 2017: Create A Story and 2016 Wedding Trends: What Brides Want To Know!. You can find more interesting blogs and images on our website, or just contact us to book your next event! And if you like this blog, would you be so kind as to share it with a friend?
Want to See More of Our Event Photo Weekly Roundups to Get Tons of Ideas?
Click on the links below:
Wedding Ceremony Ideas: Say "I Do" YOUR Way!
Quirky, Fab Style? Try These Fun Wedding Ideas!
Gorgeous Wedding Cake Ideas: Eat, Slice, Love!
Save Save
Save
Save
Save
Save
Save
Save
Save
Save
Save
Save
Save