As we continue our month of organization, I wanted to look at cleaning up from a design perspective rather than just recommendations for boring ol' plastic containers to store stuff in. I mean your house should LOOK GOOD too, right?!  Everyone has different issues. (Mine are too numerous to count! So we won't go there now! BUT… if you want a few laughs, check out my Snarky Time blog!)
Some of us can't put cars in the garage because we use the space to store stuff, but would really like to get our poor wheels out of the harsh sunlight. Some of us live in small flats that have very little storage and closet space. Some of us have a house full of kids and all the accompanying toys and mess they make. Some of us are collectors whose hobby spills over into too many rooms of the house. The list goes on and on. As I mentioned in last week's Office Makeover blog, I'm constantly looking at design magazines and Pinterest boards for clever ideas on how to keep organized in an aesthetically pleasing way. With that in mind, here are some life hacks that can transform your humble abode!
Color Coordinated Bookshelves
If you have large bookcases or built-in shelving units, this is a great way to displays books, bric-a-brac, and art in a way that looks beautiful and adds color to the room. Remove the dust jackets from your books and see what colors the bindings are. Group according to color and display in compact stacks surrounded by decor items such a vases, glass bowls, figurines, artwork, baskets, and candle holders that are the same shade. Not only does this brighten a room with white walls, it offers playful styling to the room… which you're totally gonna want when you host your next soiree! If you haven't yet downloaded a free copy of our Super Secret Party Tips, do it now!
Clean Out The Closet
Closets! They can be your best friend or your worst enemy! As far as I'm concerned, all easy life hacks start with closet hacks! If space is an issue in your house, especially if you don't have a garage, chances are your closets are bulging at the seams not just with clothes and shoes but also overflowing with office supplies, seldom used kitchen appliances, linens, holiday decorations, boxes of keepsakes, and who knows what else!
First things first: get rid of stuff you don't like or wear anymore! Like that leather fringe jacket leftover from the grunge rock years! Wondering what else qualifies for the throw away pile? Here's a handy graphic to help you get started!
Storage That Doubles As Design
If your closet is already short on space, consider bringing shoes, scarves, handbags and hats out of the closet and onto wall shelves that display them in a creative, decorative way.
Anthropologie has gorgeous glass and ceramic knobs and drawer pulls that look beautiful clustered on a wall for the purpose of hanging purses and scarves.
Unbox The Baubles!
This tiny closet hack from Domino also leverages the idea of putting traditional closet items on display. Using a simple bookcase or stacking unit in the bedroom, you can free up space in the closet by displaying shoes AND also free up counter space in the bathroom by showing off a tray of perfume bottles AND also make accessories so much more accessible (!) and convenient by having them on a tray or jewelry rack rather than storing them in a box! This is something I learned long ago. If I store jewelry in a craft organizer or jewelry box, it means I'm never going to wear it! It's way better to keep necklaces and bracelets within easy reach. Hey, remember those fancy drawer pulls we were just talking about? You could also use them to hang chunky statement necklaces!
Toy Clean Up
No matter how lovely your home's interior design may be, having toys laying around makes the house look messy and unorganized. If you're looking for ways to declutter your kids rooms, check out Smart Household Tips For Back-To-School for simple hacks that help tidy things up. Wanna know the other benefit of keeping toys off the floor? It helps keep them cleaner! Seriously, moms, it's hard enough keeping young ones cold-free and healthy during the school year. Don't add to the germ fest by letting them play with dirty toys. A simple way to clean blocks, dolls, and action figures is to run them through the dishwasher with a no-heat dry. Done. And done!
Make The Most Of The Medicine Cabinet
I love these little stick-on plastic caddies for the medicine cabinet! Truly, they are one of my favorite life hacks! Not only do they keep makeup and beauty items organized and easy to grab, they free up space in the drawers for larger items such as hairbrushes and curling irons. You seriously want to get these!
Tile Facelift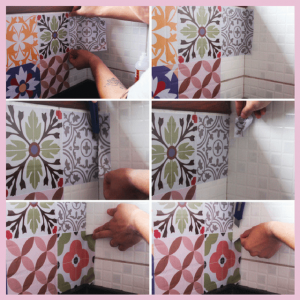 I don't know if this is really an organization tip, but I'm considering this kitchen revamp a life hack simply because it requires zero skill! You don't have to be crafty or creative or have masonry experience and anything bordering talent to refresh your kitchen with these guys! The peel-off contact sheet squares I found on Pinterest allow you to update your kitchen backsplash (or bathroom tiles) quickly, easily, and for very little money! Sounds like a life hack to me!
Remember that the best kind of life hack is the kind that brings you joy – like a party with friends! Our Super Secret Party Tips Guide has loads of entertaining tips for festivities big and small. Best of all, it's FREE!

If you liked this week's blog, then you should definitely check out:
15 Trip Planning Hacks To Help You Save
15 Holiday Party Tips For Stocking Your Bar
What life hack or organization tip do you swear by? Tell us in the comments below!