Last month we indulged in luxury and this month it's all about getting real and practical, which, admittedly, isn't nearly as exciting as private islands and jets! Alas…! Everyone can stand to be more organized. And I mean, EVERYONE! Especially after we've all been lazy and vacationing over the summer. (Eh-hem, that would be me!) Yes, even you smarty pants who already has a calendar and planner and phone reminders and a bazillion spreadsheets and post-it notes! There are still things you can do to organize every room of your house so that you feel more inspired, productive, and ultimately relaxed because you haven't had some "Oh, sh*t, I forgot!" moment. Or, a "where did I put that doo-hicky?" time wasting scavenger hunt through all of your drawers!
It's back to school season, so you're definitely going to need to stay on track. That's why we've searched the world for smart household tips to help keep you organized! Much of these fab ideas have been curated from Pinterest. If you haven't seen our oh-so-entertaining and informative Pinterest Boards, head on over to get ideas from today's blog AND cool party ideas to inspire you. Want more inspiring ideas? Well, if you haven't downloaded our Super Secret Party Tips Guide, you should do that too!
Bullet Journals
Journals have been around forever and it seems like every few years someone has some new format that's supposed to be better than its predecessors. Currently, Bullet Journals have the honor of being the "IT" way to journal your way to better productivity and results. From the name you can kinda guess how they work – with bullet points!  Motivation gurus insist that a blank journal you personally customize for your needs is always going to be superior to a pre-made journal that may have categories or actions irrelevant to your lifestyle.
Therein lies the key…  which is THE KEY!
To create an effective Bullet Journal you first must come up with action categories you label in an Index Key.  Things like: Task, Task Completed, Task Scheduled. Whether you need to journal daily, weekly, or monthly, it's up to you since you're going to be physically writing in the items on your calendar and then marking them up using symbols from your Index Key. Not only does a journal like this force you to engage on the page, it provides the freedom to sketch project ideas, add stickers, tape pictures inside, or write down daily motivational quotes to keep you inspired.  Speaking of which…!
Motivational Quotes
I'm a big believer in peppering my journal with motivational quotes. If you've visited my consulting site The Profit Goddess, you know that I post weekly quotes for entrepreneurs and dreamers alike offering business advice, spiritual wisdom, and fun sayings you can share on your social channels. Hey, let's be honest, there are going to be days when you need a kick in the behind to stay energized about whatever is on your plate at that moment and I find motivational quotes keep me in a positive frame of mind even when things are stacked against me. (I mean, you do know about all of my dating misadventures and disasters, right?!) Okay, moving on…!
Kitchen Hacks
Do your cupboards look like crap just exploded in there?! Are there sticky ketchup, mustard, and salad dressing rings on the shelves of your refrigerator?! Yes?! I'm going to pretend you said yes because 1) there probably are, and 2) I want to share some super cool kitchen hacks that are particularly good for lunch-making moms during back to school season! Cardboard egg cartons are a simple way to corral your condiments and keep the shelves from getting messy even with the bottles tipped upside down.
If you have young children, snack bins that have serving portions already created are a great way to save time when your kiddos are looking for snacks after school. Plus, it provides a proper serving size so that they don't just eat globs and gobs.
Recycled plastic (and glass) containers are a great way to store pasta, beans, lentils, and grains so that they stay fresh and bug free in the cabinets and pantry. Help the planet by conserving new materials! Simply wash out old spaghetti sauce jars and orange juice containers, slap fun labels on, and refill them with storage staples.
Light It Up!
It's hard to get stuff done when you can't see! Using screen illumination is hard on your eyes and overhead fan lamps and ceiling lights are not usually adequate for lighting up a room. Create a designated work/homework space that is well lit and has good ambiance. Invest in a cute decorative desk lamp or LED book light so that you aren't straining to fill out that bullet journal and complete homework!
Crafty Wall Organizers
If a plain old cork board is too boring for your wall, decorate it with fabric and sew old pants pockets on to hold various desk items such a pens, markers, scissors, and paper clips.
Yeah, I know, when you leave class you don't really want any reminders of school until you have to go back the next day… BUT! These chalkboard wall organizers are too cute to pass up and can be customized just the way you want 'em, then erased and reused over and over!
Closet Storage Solutions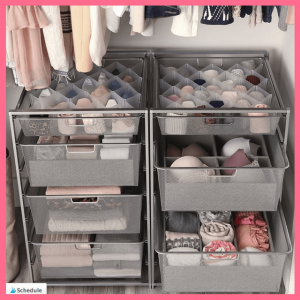 Back to school season definitely calls for closet organization! Especially if you're away at college and living in a dorm! The Container Store has a solid selection of closet organizers and storage solutions that will optimize space. (It's all about the bins baby! Metal, plastic, cardboard – it doesn't matter!) Choose drawers that have small compartments and deep open spaces for different wardrobe items and line them with dryer sheets so everything stays smelling fresh!
You can maximize space in small closets and children's bedrooms with clever stacking and hanging options AND keep the toys off the ground! Not only do easily accessible storage containers help kids take more responsibility to put away toys without you nagging them a thousand times, they maintain an organized look that keeps shoes off the floors and books on the shelves.
Next week we'll show you swoon worthy interior office styling for your home office makeover! Until then, show off your kitchen organization skills by having some friends over for a back to school season soiree! Planning is simple with our Super Secret Party Tips Guide – it's FREE!
If you liked this week's blog, then you should definitely check out:
Bust Out The Fun Before It's Back To School!
Plant, Grow, Harvest: Healthy Eating For Kids!
Fix It Friday: How To Reuse File Holders!
What's your favorite kind of journal to help you stay organized? Share with us in the comments below!