Who needs a tree skirt? Think beyond the tannenbaum!
If you celebrate Christmas, you probably have a lovely collection of tree ornaments and decorations, along with a ball of tangled lights that you need a week to deal with. As much as I love all the traditions of Christmas, there are times when I feel like ditching all the same old, same old and going with something new. Don't get me wrong, I love my ornament collection, but I don't always love, love some of the ones that sneak their way in there. Like the hand-me-downs from relatives or the ones that I get stuck with after a white elephant — they're funny at the time, but later are just kind of ugly. So this year I decided to experiment with some alternative Christmas tree ideas.
They're perfect for anyone who doesn't have a lot of space. You know, like if your usual mansion abode is being renovated and you've temporarily downsized. Or if you want something smaller than usual so that the tree doesn't bump into your foyer chandelier again. Or, if you're like me and your "downsized" abode is where you always live!
Tree hugger! Embrace an alternative Christmas tree!
Most of the alternative Christmas tree ideas we're showing this week are petite enough that they'll fit just about anywhere. On a coffee table, as a centerpiece, on the bar, in front of the bar, above the bar. (It must be nearing happy hour as I write this!) And yes, you read that above-the-bar part correctly because, of course, we've got an upside down tree to show you! That's the hot new trend this year that's stirring up controversy among some people looking for something to complain about. I mean, come on people… it's just a tree! No need to fear the tree!
And it turns out, the upside down tree is quite the old tradition. Some sources say that it dates back to a Polish custom in the 1500s. Which just goes to show that nothing is ever really new! Recycled maybe, but not new. So, if you're short on floor space, or you just want to have an avante garde Christmas — cuz who doesn't? — try hanging an upside down tree. Just make sure you have a sturdy ceiling fixture to work with. Maybe not the crystal chandelier.
Where to find The Party Goddess! ideas galore?
If you've been one of my loyal blog followers, you know that we publish these image roundups weekly. We feature a particular event for a particular client so you can go deep on the particular theme. If you know what's up, skip this part. New visitors, take a look below…
In case you missed it, here's what we're doing, mentioned in the first blog. (And if you already know what's going on, skip to the first photo!) Every day we're posting event photos & inspiration to my Instagram page to give you ideas for your own events. And, of course, to encourage you to hire yours truly, one of the top event planning companies, for your next soirée! In terms of format, we're trying to capitalize on the whole hashtag calendar world and take advantage of #WeddingWednesday (#WW) and #ThrowbackThursday (#TBT) by posting wedding photos and cool stuff we've done on Wednesdays and on Thursdays, harkening back to a past client's event, be it a celebrity, or just one of us tastemakers.
Favorite Event Photos and Inspiration – Monday:
Do you love Christmas, but aren't into all the kitsch? Does anything more elaborate than a Charlie Brown Christmas tree make you feel like you're at the mall? No worries! You don't have to come off as a total grinch. Just get a little bonsai-size tree, arrange with pinecones and have yourself a zen little Christmas!

Favorite Event Photos and Inspiration – Tuesday:
It's the glitterati! The holidays are the best time ever for those of us who love sparkly, shiny, glittery things! If you're looking for an alternative Christmas tree, this one is perfect. It's modern and simple. It fits on your table. And it's super glittery!

Favorite Event Photos and Inspiration – Wednesday:
O Christmas tree, O Christmas tree, how lovely are thy branches! Who actually knows the words to this song? I made it as far as "tree" before I had to look them up. Still, that song will now be in my head for the rest of the day. Maybe not such a bad thing since I have alternative Christmas trees on the brain this week!
Favorite Event Photos and Inspiration – Thursday:
No alternative Christmas tree post would be complete this year without the upside down tree! So here it is… in pink! Cuz why not? There's no shortage of photos and info online about this hot "new" trend, that actually dates back to the 1500s, maybe even later. How's that for a Throwback Thursday? #TBT
Favorite Event Photos and Inspiration – Friday:
Silver is the new green! Faux is the new real! Who says a Christmas tree has to be green? Or big? Or real? I don't! This little silver tree adds a pop of shimmer to a tabletop or wherever you decide to deck the halls for your next party — like the bar. That's a tabletop isn't it? #TGIF
Favorite Event Photos and Inspiration – Saturday:
Aww, how sweet is this? It's the mini me of Christmas trees… perfectly sized to work as a centerpiece, a tabletop display, or as your actual Christmas tree if that's all you've got room for!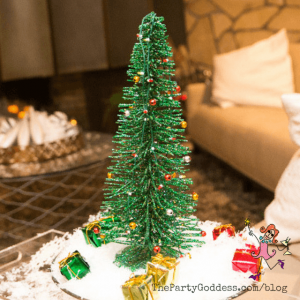 Event Photos and Inspiration – Plus, tell me what else you want to see on the blog!
So, what do you think of these alternative Christmas tree ideas? Which is your fave? Let me know in the comments below!
And because we love that you love parties, we're giving this away for FREE! It's our Super Secret Party Tips Guide that has tons of useful tips for fetes of every shape and size. Check it out!

xoxo M
P.S. Oh Christmas Tree! We've got more ideas! Check them out right here: #1 Fiesta Christmas Tree Inspiration Board, Vintage Christmas Decorating Ideas That Rock! and The Nightmare Before Christmas Decor Ideas!. You can find more interesting blogs and images on our website, or just contact us to book your next event! And if you like this blog, would you be so kind as to share it with a friend?
Want to See More of Our Event Photo Weekly Roundups to Get Tons of Ideas?
Click on the links below:
6 Fun Ways To Say Yes To NO Holiday Stress!
10 Best Appetizers And Drinks For A Holiday Party
Holiday Wish List: Put YOURSELF At The Top!