Now that I'm on the board of the International Academy of Wedding & Event Planners, I've got nuptials on my mind more than ever before. But not just in the party planning kind of way. This role also has me thinking about what celebrating love really means. If you've been a follower of mine, you know that I've walked down the aisle two times! (Umm, don't judge!) I won't deny that I'm a hopeless romantic. I also won't sugar coat the fact that dating in your 40s is really fracking, errr, how do I put this tactfully… "challenging." For insights into my illustrious dating life, check out my blog from earlier this year: The Ultimate Guide to Dating A Woman Over 40! Sigh…. But! As they say, older & wiser! Dating fiascos over the years have given me more insights into myself and the really big, super-duper important need to first love yourself! So… suddenly, and from out of nowhere (yes, I'm being dramatic!), Blue Nile, the lovely bling specialists, shared an infographic that maps out the differences between the ways our parents loved, and the way we love today in the modern age. I thought it'd be amusing to provide commentary on the following comparisons! Here we go…!
Single Ladies Take Control!
Now, I wouldn't say I'm the world's biggest feminist. I was never out there burning bras or anything (frankly, I like having something to hold the girls up!) but I've been running my own business for two decades and have always embraced female independence. When I think back to my mom's generation, most women were housewives and stay at home moms rather than career women. I knew early on that THAT arrangement was never going to fly for me! Don't get me wrong, being a stay-at-home mom is a job in and of itself, but I've always been ambitious! I love constantly learning new things, being out there meeting people… and, for what it's worth, I prefer not being dependent on a man to do things, buy things, and just all around make my way in the world!
Okay, so what does that translate into in the dating realm of the 21st century? Do I want a guy to pay for my dinner? Well, yeah, sure!  Do I want to pay for his dinner? Absolutely! In the modern world, taking turns covering the bill for a night out says more to me about someone's character than whether they have gender roles in mind. And when it comes to first dates, I think the person who did the asking should treat.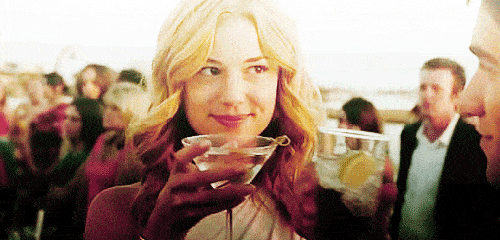 If a guy asks to meet for drinks and then says, "Let's split it," all I can think is, "What-the-frack, El Cheapo! It's $12!!" ZZZZ!!!! (That's me buzzing them out game-show style, not falling asleep. Although taking a snooze would probably be an appropriate response also!) And, like, if it's a coffee date and the dutch situation?! Fugetta-bout it! Seriously… you couldn't shell out $3.25?! When I ask a man out, I pay! Even if, 30-minutes into it, I want nothing more than to buzz them out game-show style for other reasons, like, say, their not-so-winning personality!
Moving on…
The Dynamics Of Dating
You're six months into this whole romance thing… all systems are go and the relationship seems to be taking off. Chances are you've enjoyed a few weekends away, you're spending a few nights a week at their house, they're spending a few nights a week at your place… it's time for the toothbrush discussion! As in, each person feeling free to leave a few personal items and clothing at one another's homes.
Rather than worrying about broaching the subject by asking your mate if it's okay, don't worry about scaring them off by having the conversation! It's 2018, people! You should feel completely confident, whether you're a girl or a guy, telling your beloved that it's okay if they'd like to leave some things at your place. There needn't be any reading into it! Toothbrushes might mean you're on the road to marriage, but more than anything they mean, "Hey, look, I'd rather not get tooth decay or have stank breath because I decided to spend the night!" (same goes for undies, pajamas, and work apparel!) Done and done!
Popping The Question
For thousands of years, going back to the dinosaur era (well, maybe not that far back!), the tradition was that men proposed marriage and presented their lady with a ring. Fairy tales perpetuated this operation, leaving ladies with rings that they did NOT like, and men with a lot less money in their bank account! Today, ladies are marrying ladies, men are marrying men, and couples of all persuasions are not only shopping for rings together but also paying for them jointly as well!
Being the hopeless romantic I am, I'll admit that I like the idea of being surprised by a proposal, but I also 'like what I like' and definitely think ring shopping should be accomplished as a team! Refer to the Blue Nile infographic above and you'll see a then and now entry about money. Tradition demanded separate bank accounts and bills until marriage. Modern thinking suggests couples use a personal finance philosophy that both people can agree on. I think this is super important when it comes to ring shopping. Jewelry can or cannot be a big investment. Many couples would rather spend less on a ring so they have more to put toward a down payment on a home or lavish honeymoon holiday. That's why talking about it is so important and absolutely much more practical in the modern world.
Getting Hitched
Ummm… hell, no!!! (And is she even wearing any panties under that apron?! Sexy, good! Sex-slave, not so much!) We've already talked about evolving gender roles. It should go without saying, couples who care about one another should feel that they are each contributing equally to the relationship no matter what the arrangement is. Otherwise…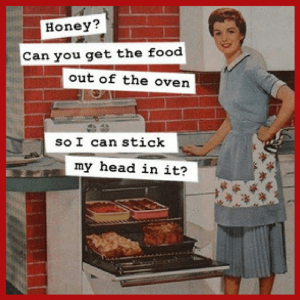 I love that today, a woman can be a breadwinner and a man can stay home and care for the kids. I love that both partners can be career people. And I love that more and more companies offer paternity leave so that dads can have time off when the bambinos are born. Bottom line is, today, couples have more flexibility. Being open minded is what has allowed marriages to evolve and pave the way for same-sex couples and changing gender roles where women make as many decisions as men. All of that makes for happier people and better relationships! (Even for disasters-in-love like me!)
And, isn't being happy a big part of loving yourself? I think so! That's why I write so many blogs about finding time to pamper yourself, to travel, to be silly and let loose with friends. To appreciate the ways you are special and different (I know I am!) and to never stop believing that your life can be whatever the heck you want it to be! If you want a diamond ring, go out and buy yourself one! Why wait?! Learning to love yourself is the best way to share your love with others! Blue Nile's tagline is "On the Side of Love." I couldn't agree more!
Next week we'll have more tips for enjoying summer vacation with your kids! Until then, check out our Super Secret Party Tips Guide – it's FREE!
If you liked this week's article, you won't want to miss these…
2018 Wedding Trends From Around The World!
Urban Glam Wedding Style: Boho Meets Edgy!
Quirky, Fab Style? Try These Fun Wedding Ideas!
What are your thoughts on wedding engagements in the modern world?  Let us know in the comments below!