Invitation inspiration! You have to see these beautiful designs by Ceci New York!
Is it just me, or do you miss the days of the old-fashioned party invitation? You remember, a paper invitation that used to arrive in an actual envelope in the mail? If it was printed — a good sign — that usually meant a swanky event. Handwritten was code for low key. You'd put it on your refrigerator as a reminder. And if it was a particularly memorable party, you'd keep it there after the fact and smile every time you looked at it. As much as I love technology and using apps to make life easier, it's kinda hard to put an Evite on your fridge. So I still love it when an invitation turns up in my mail. This week we're looking at custom wedding invitations, definitely my favorite kind of invite to receive!
The custom wedding invitations we're featuring this week are all from Ceci New York, renowned creators of unique and artistic invitations of all kinds. Ceci Johnson, the company's fab founder, is a personal friend of mine. She's a true creative genius and a successful entrepreneur — such an awesome combo! I hope you love her designs as much as I do!
Where to find The Party Goddess! ideas galore?
If you've been one of my loyal blog followers, you know that we publish these image roundups weekly. We feature a particular event for a particular client so you can go deep on the particular theme. If you know what's up, skip this part. New visitors, take a look below…
In case you missed it, here's what we're doing, mentioned in the first blog. (And if you already know what's going on, skip to the first photo!) Every day we're posting event photos & inspiration to my Instagram page to give you ideas for your own events. And, of course, to encourage you to hire yours truly, one of the top Los Angeles wedding planners, for your next soirée! In terms of format, we're trying to capitalize on the whole hashtag calendar world and take advantage of #WeddingWednesday (#WW) and #ThrowbackThursday (#TBT) by posting wedding photos and cool stuff we've done on Wednesdays and on Thursdays, harkening back to a past client's event, be it a celebrity, or just one of us tastemakers.
Favorite Event Photos and Inspiration – Monday:
Someone is requesting the pleasure of your company! This beautiful invitation set is designed by Ceci New York. It's classy and creative, just like the couple!
Favorite Event Photos and Inspiration – Tuesday:
Even reply cards can be stylish! Loving this shade of peach that just screams summer!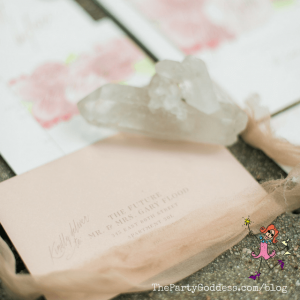 Favorite Event Photos and Inspiration – Wednesday:
A beautiful invitation sets the tone for what's to come! The feel of heavy paper, the design, the anticipation that begins… it's all part of the build up to the event that awaits. Happy #WeddingWednesday!
Favorite Event Photos and Inspiration – Thursday:
Ceci New York designed this invitation and stationery for a wedding in Hawaii. (My invite must've gotten lost in the mail.) The lush tropical design has an almost vintage feel. And if guests felt a little too warm, they could use the program as a fan. Aloha! #TBT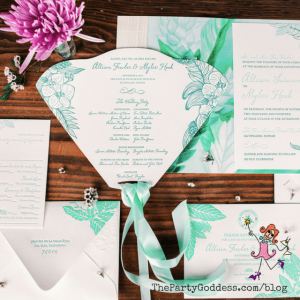 Favorite Event Photos and Inspiration – Friday:
I love this take on a traditional wedding invitation. Gorgeous color and beautiful artwork combine with traditional and modern fonts for an invitation that's one-of-a-kind. #TGIF
Favorite Event Photos and Inspiration – Saturday:
Look at the intricate design of this invitation. It's detailed and elegant and hints at something spectacular! I don't know about you, but if I got this invitation, I would totally go!
Event Photos and Inspiration – Plus, tell me what else you want to see on the blog!
So, what do you think of Ceci New York's custom wedding invitations? Which is your fave? The favor of your reply is requested! Let me know in the comments below!
And because we love that you love parties, we're giving this away for FREE! It's our Super Secret Party Tips Guide that has tons of useful tips for fetes of every shape and size. Check it out!

xoxo M
P.S. Looking for more invitation inspiration? Then take a look at these blogs: Go Big…Unique Wedding Invitations, Finding Super Unique and Fun Invitations and Invitation Inspiration!. You can find more interesting blogs and images on our website, or just contact us to book your next event! And if you like this blog, would you be so kind as to share it with a friend?
Want to See More of Our Event Photo Weekly Roundups to Get Tons of Ideas?
Click on the links below:
Express Yourself! Awesome Event Signage Ideas!
Wedding Day Advice: Just Keep Calm & Marry On!
Pets In Weddings: Unleash The Love!
Save
Save
Save
Save
Save
Save
Save
Save