Why Not Celebrate Random Holidays?

Did you know that there's a designated holiday for just about every day of the year? Shocking, isn't it? No joke – there's actually a list of bizarre, wacky and unique holidays. So with this in mind, I think why not embrace these holidays? Being an event planner, I'm ALWAYS up for a good excuse to celebrate! Aren't you? It just so happens that March is National Craft Month which is right up my alley! This past week we celebrated my crafts, "I Want You To Be Happy Day" plus "Employee Appreciation Day" – all a little random, don't you think? And, let me set the record straight as I write this blog – NO, I was not the recipient of a marriage proposal! Monday was Leap Year…and keep reading to find out what that means for all of you single ladies who have been patiently waiting for a marriage proposal.
If you've been one of my loyal blog followers, you know that we publish these image roundups weekly. We feature a particular event for a particular client so you can go deep on the particular theme (although this week, we've sidetracked a bit). If you know what's up, skip this part, new visitors, take a look below…
In case you missed it, here's what we're doing, mentioned in the first blog (and if you already know what's going on, skip to the first photo!): Every day we're posting event photos & inspiration to my Instagram page to give you ideas for your own events, and of course, encourage you to hire yours truly, event planner extraordinaire, for your next soiree! In terms of format, we're trying to capitalize on the whole hashtag calendar world and take advantage of #WeddingWednesday (#WW) and #ThrowbackThursday (#TBT) by posting wedding photos and cool stuff we've done on Wednesdays and on Thursdays, harkening back to a past client's event, be it a celebrity, or just one of us tastemakers.
Favorite Event Photos and Inspiration – Monday:
Get on it, girls! Who knew that the ONE day that's totally acceptable for a chick to propose to a guy is on Leap Year? This day only comes around every 4 years!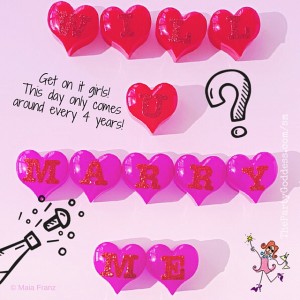 Favorite Event Photos and Inspiration – Tuesday:
Celebrate National Craft Month! Where do I sign up?
Favorite Event Photos and Inspiration – Wednesday:
Happy #WeddingWednesday (#WW) Bring your standard strand of lights to the next level with cupcake wrappers from the 99¢ Store! Don't you #LOVE it?
Favorite Event Photos and Inspiration – Thursday:
#ThrowbackThursday (#TBT). Do something to make others happy! It's "I Want You To Be Happy Day"!
I can't even begin to tell you how happy I am about this heart garland!
Favorite Event Photos and Inspiration – Friday:
Love to my super fab worker bees on Employee Appreciation Day!
My new obsession is dying string in bright colors!
Favorite Event Photos and Inspiration – Saturday:
I could seriously do crafts 24/7! What do you think about my super stylish necklace?
Event Photos and Inspiration – Plus, tell me what else you want to see on the blog!
So, what do you think? Are you psyched like me that it's National Craft Month? Which of these crafty images is your fave and please share your ideas? Oh, and you definitely need to give me the low down if any of you ladies proposed on Leap Year! Let me know in the comments below!
xoxo M
P.S. Here are more ways to celebrate National Craft Month: DIY Champagne Cork Succulents, DIY Canvas Portrait and DIY Shiny New Cake Stands!. You can find more interesting blogs and images on our website, or just contact us to book your next event! And if you like this blog, would you be so kind as to share it with a friend?
Want to See More of Our Event Photo Weekly Round Ups to Get Tons of Ideas?
Click on the links below:
DIY Valentine's Day Ideas That You'll LOVE!