Who knew that something so adorable and inventive could be such a simple thing to make?! After seeing versions of these on a few different sites and wanting to create our own…we finally did it.
Sitting down and hollowing out champagne corks can be quite cathartic…who knew? We found that champagne corks as opposed to wine were definitely the way to go since they allowed more room for the plant.
After placing the plant inside of the cork, we fixed some with thumb tacks on the back and others with magnets. That way they can be used in a few different ways throughout the office and home!
Aside from the fact that these cute little buggers are inexpensive and easy to make, they make quite the thoughtful gift. Who isn't touched by receiving a handmade piece from a friend?
Now if you're looking for another touch to add to your creation, you can construct an entire cork board made from wine corks to pin your beautiful succulents to.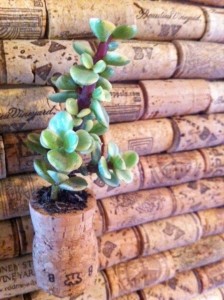 Can't get any cuter than this, right?What DIY projects are you working on right now? We'd love to hear about them and find more inspiration from our fellow Party Goddesses!
* Wine Cork (Champagne cork works the best)
* A drill or knife to hollow out