Here It Is! The Weekly Roundup of Event Photos and Inspiration – Week 3
OK, so this is a Wednesday wrap up instead of over the weekend. Got a little challenged with the holiday. Still challenged, BUT… here it is! So how did you like Week 2 of our Event Photos and Inspiration?? Have you noticed? We're now posting event images twice a day, Monday – Friday on Instagram and Twitter because we're getting great feedback. The good news is that every weekend, we're recapping our favorites here in case you missed them.
Recap of the plan, skip to the photos if you know this…(here's what we're doing, mentioned in the first blog): "Every afternoon we're posting event photos & inspiration to my Instagram page to give you ideas for your own events, and of course, encourage you to hire yours truly, fabulous event planner in California for your next soiree! In terms of format, we're trying to capitalize on the whole hashtag calendar world and take advantage of #WeddingWednesday (#WW) and #ThrowbackThursday (#TT) by posting wedding photos and cool stuff we've done on Wednesdays and on Thursdays, harkening back to a past client's event, be it a celebrity, or just one of us tastemakers. So…here is the first weekly round up of my favorite Instagram images that we posted. (For more event images, click here.) Enjoy and tell me which one is your favorite in the comments below?"
Favorite Event Photos and Inspiration – Monday:
This whole week features a spa themed baby shower that I did for a very close friend's future daughter in law. The tables were long with chocolate linens, lots of green and those magical frosted glasses. I LOVE those glasses.
Favorite Event Photos and Inspiration – Tuesday:
Complementing the sort of solid, but still feminine frosty beverage containers, we did super sleek flatware peeking out at the sides of the photos. I think a strong bloom, like these orchids looks amazing on top of simple plates.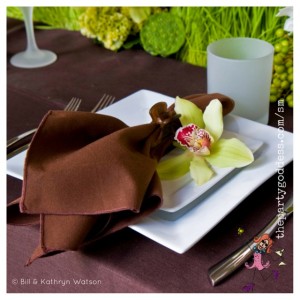 Favorite Event Photos and Inspiration – Wednesday:
Happy #WeddingWednesday (#WW): At each place setting guests also got a "chakra" card to get in touch with themselves and really get everyone to relax. The colors on the cards were practically the brightest pop we had at the whole party and they really stood out against the chocolate brown.

Favorite Event Photos and Inspiration -Thursday:
#ThrowbackThursday (#TBT) to this photo shoot and the fabulous Eduardo Xol of Extreme Makeover Home Edition. One of the nicest, most professional guys on the planet and amazingly talented. This event was featured in his book, Extreme Entertaining Made Easy, on Amazon.
Favorite Event Photos and Inspiration – Friday:
And what could be better than mini metal lunch boxes full of spa goodies – love the bath bombs at Lush. Simple, thoughtful and a super nice treat for your guests. Lots of great products like these can be found at your local World Market. (My new FAV go to spot.) Have fun and if you're in Pasadena, make sure you go and see my boy, Alan, the manager!
Want More Event Photos and Inspirations?
Check out these!
Tons of Modern Flowers Ideas from Snoop Dogg's Vow Renewal
Moss, Butterflies & Super Modern Event Decor
Not Your Every Day Wedding – Hip, Bright Wedding Reception Images
Event Photos and Inspiration – I'm In Love:
What do you think of this week's chocolate and acidic apple?! What are some of your favorite sources for inspiration, flowers, trends and all things fashionable? Share them in the comments below so we can all get inspired!  Stop back every weekend to get the previous week's Instagram recap of Event Photos and Inspiration!
xoxo M