It's true. I am completely obsessed with kitsch holidays and St. Patrick's Day for sure falls into this category. Soooo, we're gonna go balls to the wall with my favorite tricky leprechaun inspired delights, which begins with #shocker the most important course of the day: DESSERT!
St. Patrick's Day Dessert #1 – Golden Oreos
The paint is edible! Yes, it is! Puhleeezzzz tell me what could possibly be better than this treasure chest of deliciousness?! You can find them here!
St. Patrick's Day Dessert #2 – Beer Mug Cakes
These have Bailey's Irish Cream in them so they taste de-lish and look adorable! Get the recipe from Tablespoon.
St. Patrick's Day Dessert #3 – Guinness Pretzel Truffles
OMG! Feed me these NOW! Sprinkle Bakes put together this amazing recipe and now I think they are geniuses!
St. Patrick's Day Dessert #4 – Lucky Charms Cake
The original recipe from Betty Crocker doesn't have alcohol in it, but you could make a boozy cake out of this one by adding vanilla pudding mix to the cake mix and ¼ cup of Bailey's Irish Cream. It will be the most moist, decadent spiked cake you've ever had!
St. Patrick's Day Dessert #5 – Shamrock Shake
You don't have to hit the McDonald's drive-thu, make your own at home with this recipe from Brown Eyed Baker, or make this boozy version.
Irish Party Ideas
Okay, now that we've gotten the sugar out of the way. (I might not be done with the sweets. We'll see… can't make any promises!) Nobody wants to eat alone so let's talk about inviting people over for a party! None of these ideas really have anything to do with being Irish. But I think the Irish like to party, so I don't think it's too much of a stretch to call these party ideas (like this pot of gold above) Irish. Right?! (This is what happens to my brain after I've eaten five desserts!) No passport required!
Pub Mat Invitations
Send your invitations on a cardboard Guinness pub mat (a.k.a. coaster!) Let your guests know the party deets (time and place) and tell them to wear a green get-up. Leprechauns will be pinching those who disobey! C'mon, we've all got a bit 'o Irish in us when March rolls around and you probably have something green in your wardrobe already. Jazz it up with rainbow socks or gold jewelry.
Turn Your House Into A Pub
Put your "pub specials" and pint selections on a chalkboard. Be sure to add Irish Car Bombs to your menu and consider serving your guests true pub food such as fish and chips wrapped in newspaper. Don't forget the malt vinegar! To add to the spin, wrap the grub in pages from an Irish newspaper.
ShamROCK Out
One thing that people often forget when entertaining is music. Have the Irish tunes blasting (No Danny Boy allowed tonight!) and include bagpipes, folk songs, Dropkick Murphys, Van Morrison or Irish bands like U2 and The Cranberries. Just go to iTunes or Pandora or Spotify, or wherever you get your jams to create a playlist. It might be the only day of the year you listen to this music, but it will get your guests into the spirit of the holiday!
Green Food
We already covered desserts (and not so healthy, but oh-so-tasty fish n' chips) so here are a few healthy options to offset the sugar and booze. There are tons of green veggies – edamame, asparagus, cucumbers, green peppers, snap peas, avocado, broccoli, spinach – not to mention herbs! Green peppers can be sliced into the shape of four-leaf clovers and the others can create a salad or veggie sandwich!
Decor
Think of fun decor pieces that are different from just flowers, such as branches with green buds or a vase full of moss or chocolate gold coins. Tree trunk vases filled with Irish Bells and reindeer moss create the look of the Irish landscape. Add some glittered shamrocks and mini Jameson bottles to make festive centerpieces. You can also create a "pot of gold" with cheddar popcorn for your guests to munch on as a snack.
Drink Garnishes
Add a little extra flair to drinks. I love the idea of using candy garnishes like green gummies. You can display them in a large martini glass or layer them in a cylindrical vase.
Where's The (Corned) Beef?
Start the day with Corned Beef Hash And Eggs!
Or, wait to serve it to your guests as cute open-faced sandwiches! Corned Beef Melts with sweet n' sour onions and wilted cabbage is a masterpiece of a meal created by Rachael Ray!
(Mini) Irish Stew
Lamb stew is another entree that boasts the best flavors of Irish cuisine. Use ramekins to create little mini servings. You can even add a shot or two of whiskey to the stew if you're feeling inclined!
Rainbow Jello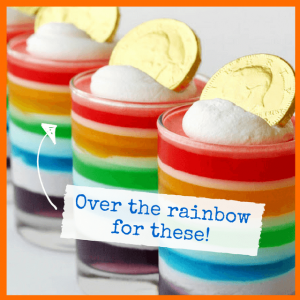 Looking for something cute you can serve to the kids? How about these amazingly fabulous Lucky Rainbow Jello Cups?! They're a little labor intensive but ridiculously cute! (Alternately, if you think it's too complicated to layer, you can use ice trays to hold "cubes" of different colored jello. When it's time to serve, combine the different colored/flavored cubes into a clear dessert dish and simply add whipped cream on top.)
If you're still looking for more ideas like this rainbow cake, check out my St. Patrick's Day Pinterest Board! We very much hope you find a pot of gold this holiday, and if you do, please immediately contact yours truly! (kidding, not kidding!) If you host a pub party, be sure to share your photos with us on Twitter and Facebook!
Want some other awesome party tips?
Download our Super Secret Party Tips Guide today for FREE!
And be sure to tell us about your St. Patrick's Day party! We want to know in the comments below!