One of the reasons I love being an event planner so much is the fact that it's a blast. Sure, it's a lot of work. Sure, there's a huge serious side to it. Business is business, after all. But event planning is far from boring. Good thing for me, I work in a field where my creativity and quirkiness are assets. Especially when it comes to deciding on a party theme! Back in my mom's day, they had tupperware parties (because nothing screams fun like plastic containers!). Today, it's the tattoo party! Yes, really. A party where a tattoo artist comes to your pad and between pizza and beers, inks whomever wants some ink done!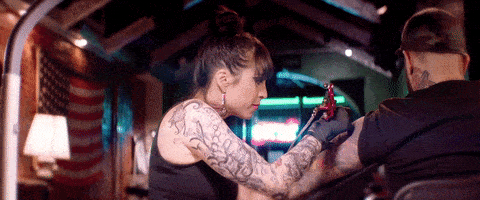 I'm gonna be honest here… getting permanently inked doesn't sound like something I'd like to do at SOMEONE'S HOUSE(!) over margaritas, with twenty people watching! If I'm going to get art that will live on my body FOREVER, it's something I want to think about for a while (sober) and have done (with proper hygiene in mind) at a reputable tattoo studio. Call me crazy, but that's just me! And, believe me, I've done some seriously crazy sh*t at parties! (If you haven't already downloaded our FREE Secret Party Tips Guide, do it!) But all of this tattoo stuff got me thinking… could there be other ways to do something artistic with a little less 'forever' involved?
Throw A No-Commitments Party!
And, yes, temporary tattoos may or may not be involved! The No-Commitment Party is a great way to party with your single friends, the ones who aren't married, the players who are never going to get married (!), and the formerly married who vow to never walk down the aisle again! Once you get this little club together, keep the no-commitments theme going by not committing to any one type of thing. For example, have a music playlist that incorporates every genre of music possible from rock, jazz and country, to hip hop, folk songs and show tunes.
That much craziness is definitely going to call for a cocktail, but don't make people choose what kind of liquor to drink—blend it all together! Long Island Iced Tea contains gin, vodka, tequila, rum, and triple sec. Yes, really! (I know you remember, because you probably drank these in high school!) These potent potions are definitely going to require food, but you won't want to commit to anything in particular so put out a platter that contains random nibbles: chicken wings, cheese wedges, cookies, egg rolls, fruits, vegetables, whatev!
Then, for fun and games, put together a grab bag of temporary tattoos from Tattly. Out of all the temporary tattoos, these are really high quality and the drawings are well illustrated by talented designer Julia Rothman (who, among other things, designs product packaging for some of your favorite brands). Let everyone choose one they can slap somewhere on their body. Depending on how many Long Islands they've consumed, their tat placement could get interesting – have cameras ready!
Exotic Body Art Party
Like the idea of having an expert come to your house to ink you up? How about having a Henna Artist at your next party?! Henna is another temporary tattoo format that lasts 1-2 weeks. Most artists are skilled at Indian and Arabic designs and can do red, black or white henna. Bonus: you only have to sit still for a few minutes for the application. Again, this is a fun way to rock a different look for a while without having to commit to something!
Face-Painting Party
Kind of like the one you had at your daughter's 8th birthday bash… but more sophisticated! Hire a professional make-up artist for a girl's night or have a house party where you hire an artist skilled at exotic airbrush make-up. This is fun entertainment for Halloween parties where they can make you look like creatures and monsters and Dia de Los Muertos gatherings.
Not-On-Your-Body Art Party!
Paint and wine parties have been popular for a few years now. This is another fun way to incorporate art into your next get together. Most are held at a venue, but you can do them at home the same way by supplying canvases and paint for your guests, along with copious amounts of vino! If you'd rather just have a Vino Party, we've got ideas for that too!
Bedazzling & Bejeweled!
Another art-themed party option is the Jewelry Making Party! If you can hire an expert who will provide instruction, that's great. Otherwise, visit your local craft store and pick up basic bracelet making items like wire, string, beads, charms, and fasteners so your guests can customize their own piece of jewelry. This is a fun activity for kids and tween girl birthday parties as well as bridal showers. Don't forget the drinks! Alcohol makes everything better (but maybe not at the kid & tween parties…)! And, if you've ever wanted to build an Instagram-worthy bar cart, check out Drink Trends for Coffee, Spirits, Beer & More!
Paper Art Decoupage Party
Remember doing decoupage in elementary school? Well, it's back! Not only do craft stores sell kits, there are tutorials on YouTube that show you different ways of application and varnishing on whatever surface you like: wood, glass, metal, porcelain. Sure, this is a good activity for kids, but it's equally enjoyable for adults to create decor and whimsical household items like picture frames, furniture and bookshelf bric-a-brac. Printed paper napkins are some of the easiest designs you can use. Or use pictures from magazine, comic books, newspapers… you name it! Check out these various decoupage works of art from Pinterest!
So, see…? It's not what you're thinking!! But if you ARE thinking about hosting a bona fide tattoo party with real tattoos, I want to see that body art! Post a pic on my Facebook or Twitter page! If you're looking for other awesome party ideas, remember to check out our Party Tips Guide!

Still want more to read? Then you should check these out!
Unique Bridal Shower Gifts & Party Themes!
Throw An Awesome Kid's Party & Not Spend A Ton!
15 Holiday Party Tips For Stocking Your Bar!